The emblem of School of Architecture, Art, and Design
King Mongkut's Institute of Technology Ladkrabang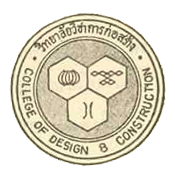 Originally it was a College of Design & Construction logo. Inside it has 2 circles and the words "College of Design & Construction" is at the outer edge with the meaning that the Construction which focuses on technology. At the same time, our college does not only focus on the construction of the operation, we also have ideas of searching and designing as well.
It can be seen that three hexagons are part of the honeycomb which the bee build its nest with harmony.
The upper left is the lamp, which means industrial product from industrial product design. Moreover, its gives light and glory.
Figure 2 on the right shows the city map and advanced mathematics in the new architecture. This represents our coordination and cooperation.
The bottom image is International sign which means narrow bridge to recognize us to live carefully. Once we have passed this place, everyone will be prosperous.